Get link

Facebook

Twitter

Pinterest

Email

Other Apps
Extra Care ;
Your Store Loyalty Card
It's FREE to sign up in stores. This is your KEY to saving $$$ at CVS/Pharmacy. It also allows you to purchase all the sale prices and promotional Extra Care Buck offers - ie: Buy 2 Get $3 Extrabucks.
Be sure to scan your CVS card or enter your phone number at the red ExtraCare Coupon Center (found at the front of the store) to see what CVS store coupons print for out that you can also combine with manufacturer's coupons!
Extra Care Bucks ;
CVS Cash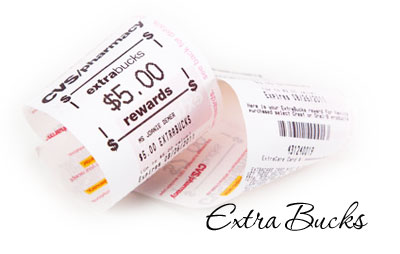 You will notice in the weekly CVS ad if you will be receiving ECB on the purchased item; it will print at the end of your receipt in a form of a coupon.
You'll also earn 2% back on your purchases (exclusions apply) that will accumulate quarterly and print out at the bottom of your receipt, at the ExtraCare Coupon Center OR through CVS.com in January, April, July and October.
If you do not spend $50 in qualifying purchases or do not otherwise reach a minimum of $1 in ExtraBucks Rewards by the end of an earning period, you will not receive rewards and will not have your earnings carried over. You must collect your quarterly ExtraBucks Rewards, which will be rounded down to the nearest dollar, during the 45-day period following the earnings period.
Once you start getting the hang of CVS, you'll be able to "roll" your Extra Care Bucks and start to profit from all the deals!
Example:
Transaction 1:
Buy (1) Huggies . $8.99 - Get $3 ECB
Pay $8.99
Get $3 ECB
$5.99 for Huggies (after ECB)
Transaction 2:
Buy (2) Doritos for $4 - Get $2 ECB
Use $3 ECB (from Huggies transaction)
Pay $1 out of pocket; Get $2 ECB


$1.00 Moneymaker
98% Rule with ExtraBucks Reward
Every week, CVS releases new promotions where you will earn ExtraBucks Rewards (which are almost like cash or store credit) for making a qualifying purchase. Although this may vary, you generally only need to reach 98% in order for the ExtraBucks to print.
Example:
Spend $30 on Baby Products to get a $10 ExtraBucks Reward - you actually only need to spend $29.40 to get the reward.
Beauty Club ;
CVS Cash

When you sign up for the CVS Beauty Club and spend $50 on qualifying beauty purchases, you'll automatically receive a FREE $5 ExtraBucks after checkout!

You'll also receive a 10% off Beauty Shopping pass after enrollment, a $3 ExtraBuck on your Birthday, exclusive coupons, and more!
Qualifying beauty purchases include items from the following categories: Cosmetics, Ethnic Hair Care, Fragrances, Hair Accessories, Hair Appliances, Hair Care, Hair Color, Hosiery, Healthy Skin Care, and Skin Care. Excludes items from Trial & Travel, gift cards, and prescriptions. Some items that do not qualify: razors, shaving cream, deodorant, some men's body washes, and sunscreen.
Extra Care Coupons ;
CVS Coupon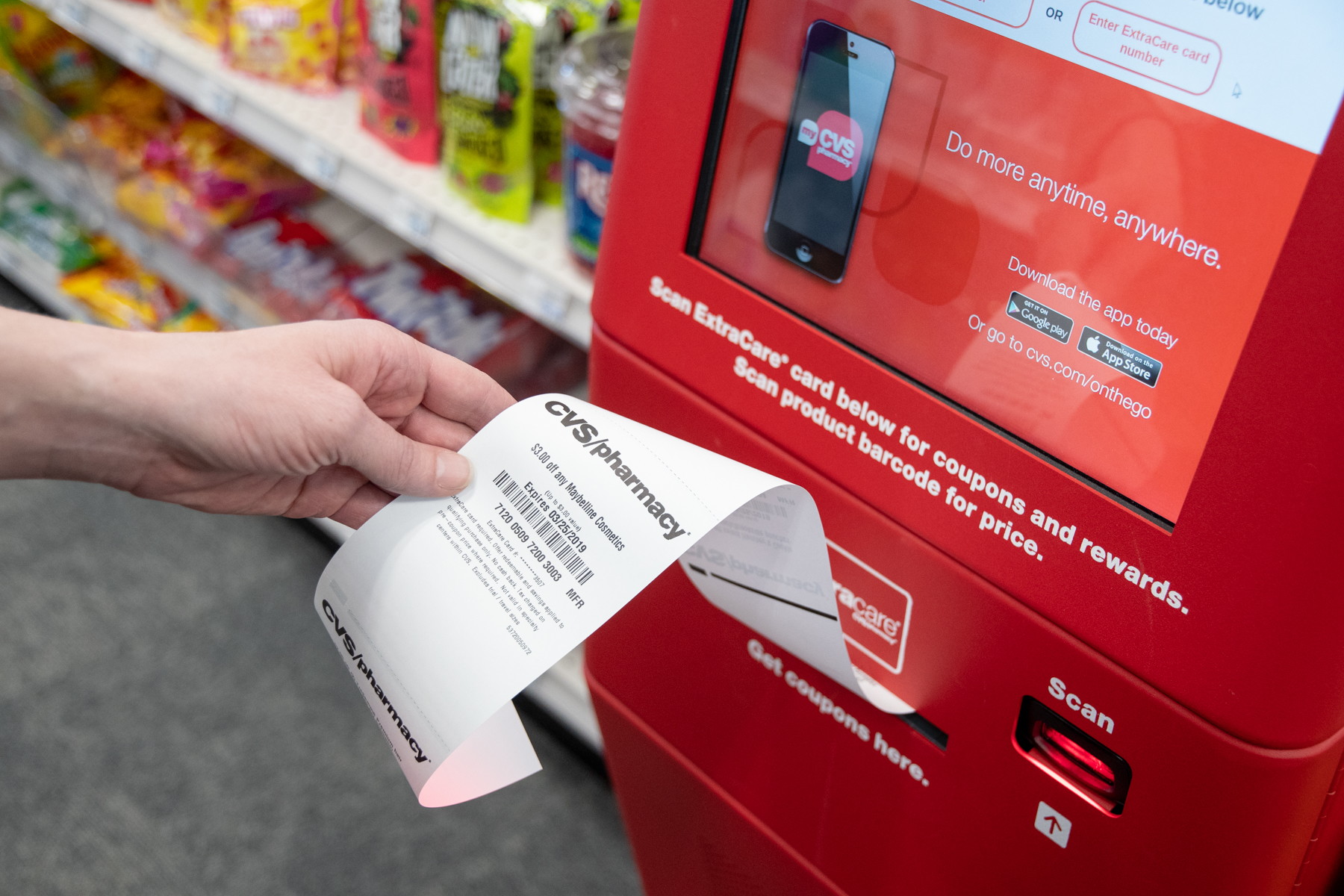 Have you ever noticed the tall red machine when you walk into CVS? That's where you go to get your CVS coupons - other than through e-mails.

What's the best thing about using CVS coupons? It can be "stacked" meaning you can use one CVS coupon and one Manufacturer coupon for the item being purchased. DOUBLE the savings :)





When using ECB at checkout, make sure your total is over the ECB amount. You will not get cash back.




Example: You have a $10 ECB but your purchase is only $8, you will not get back the $2 in ECB.
It dies and goes to ECB heaven.



CVS Coupon Policy ;
Click
HERE
to print out the Coupon Policy
1 Manufacturer & 1 CVS Coupon allowed per item.
B1G1 Offers: You are allowed to use a B1G1 FREE Manufacturer's coupon to get both for FREE or you can use (2) $ off coupons.
Reserve the right to limit quantities.
CVS does NOT accept competitors coupons or match competitors sale prices.
CVS accepts manufacturer coupons from the Sunday newspaper, print-at-home manufacturer coupons, CVS store coupons, CVS App coupons, CVS Coupon Center coupons, and CVS mail coupons.
100% Satisfaction Guarantee
All CVS/pharmacy Brand products (such as Gold Emblem, Just the Basics, etc) are 100% satisfaction guaranteed or you'll get your money back.
If you're dissatisfied for ANY reason, you can return the product (opened or unopened) along with your receipt or invoice to any CVS/pharmacy store.
ExtraCare Pharmacy & Health Rewards

You can earn "credits" for your prescription purchases and refills w
ith the ExtraCare Pharmacy & Health Rewards program.
For every 10 credits you earn, you'll get
a $5 ExtraBucks Rewards
and it will be issued approximately one week after every 10 credits have been earned.

Since
CVS Health acquired Target's Pharmacy
back in 2015, you can now fill your CVS/Pharmacy needs at your local Target. The ExtraCare Pharmacy & Health Rewards program gives you the option of a
$5 Target merchandise coupon
OR a
$5 ExtraBucks Reward
each time you earn 10 credits.
Customer Service Hotline ;

Problems, Suggestions or Comments?!
If you have an issue with a cashier, ask to speak with the store manager. If you are unable to resolve the issue with the manager, note the manager's name and the time the incident occurred and then call Customer Service.

The phone number is 1-800-SHOP-CVS or 1-800-746-7287 or send an email.
Get link

Facebook

Twitter

Pinterest

Email

Other Apps