Get link

Facebook

Twitter

Pinterest

Email

Other Apps
I love splurging on Starbucks coffee, especially when all of the seasonal flavors like Pumpkin Spice and Egg Nog Fraps hit the menus! If you're like me and are looking for easy ways to save on these treats, here are my money-saving tips :)
1.) Starbucks Rewards
Download the
FREE Starbucks app
(iOS or Android) and sign up for the My Starbucks Rewards program.
As a member, you'll earn two Stars for every $1 you spend at Starbucks stores!
Get Stars even faster with Bonus Stars, games, and offers in the app and in your inbox.
On Double Star Day, you'll get twice the number of Stars on every single order.

As a member, you'll also qualify for the following perks:

FREE Birthday reward!
A free food or beverage item will be added to your account on your birthday. The reward is valid on your birthday only.
FREE refills of hot or iced brewed coffee and tea.
You must use your registered Starbucks Card to purchase a beverage for refills of hot or iced brewed coffee or tea during the same store visit.
Early or extended access to certain promotions and offers.
Starbucks may offer Rewards members early or extended access to special menu items or discounts. Members may take part in these offers by paying with their registered Starbucks Card at participating stores.
Personalized offers and coupons.
Special offers may be distributed by email, the Mobile Inbox on the Starbucks mobile app, or by physical mail. You must opt-in to receive promotional and marketing offers from Starbucks and may be required to provide a valid email, telephone, and physical address in order to receive your special offers.
2.) Bring Your Own Cup


Save 10¢ on your drink whenever you bring in your own reusable cup, mug, or travel tumbler. You can also purchase a plastic

Starbucks Reusable Travel Cup (Grande 16oz)

for just $2 at most locations that will save you 10¢ every time you bring it in.
3.) Order a Short coffee
Starbucks offers an even smaller size than their Tall 12oz drinks.

Order a "Short" 8oz specialty beverage that has the same amount of espresso as the Tall version, but is less expensive. Planning to add cream? Order a Short beverage in a Tall cup so you're still getting the same amount of coffee…then head to the condiment counter and add complimentary milk or cream.
No sleep? You can also order a Trenta 30oz size beverage (available for select drinks) for about 50¢-$1 more than the Venti price.
4.) Ask For "No Water" With Your Tea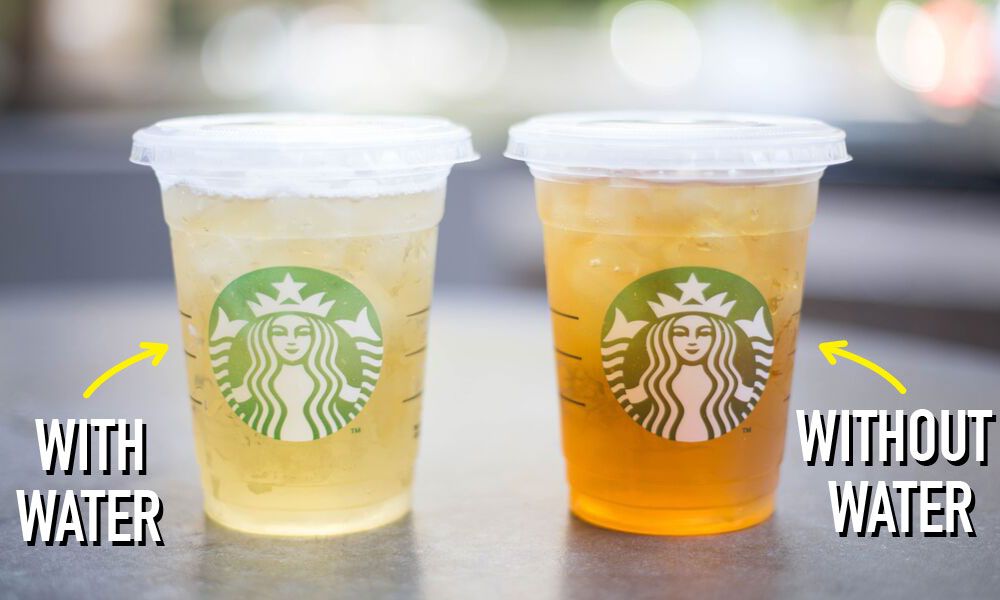 Iced Tea in the pitcher at Starbucks is double-strength and watered down for your final recipe.

To get the most bang for your buck, request "no water" with your tea and you'll be getting twice as much tea for the same price. Also, consider ordering your drink with no ice (or asking for ice on the side) to ensure that your drink is the strongest possible.
5.) Split a Venti Drink with a Friend

Instead of ordering two Tall 12oz beverages, consider ordering one Venti 24oz beverage and splitting it with a friend.

A Venti 24oz Caramel Latte

is priced around $4.65

, whereas a Tall Caramel Latte

would cost around $3.65

each!
6.) Don't Order Bottled Water

Ice and water used in Starbucks is triple-filtered, so it's clean and delicious.

In fact, it may be even cleaner than the Ethos

bottled water that is sold

in-stores for around $2 each. So consider just asking for a FREE glass of iced water the next time you're thirsty for some H2O.
7.) FREE Puppy Whip


If you are heading to Starbucks or through the drive-through with your furry friend in tow, consider ordering them a free "Puppy Whip" which consists of a small cup of whipped cream.
Get link

Facebook

Twitter

Pinterest

Email

Other Apps